New Historic Temple Trail Brochure is Here
After three years of hard work, hot days, flat tires, and breakdowns on remote trails, our chapter's Temple Trail project came to a glorious conclusion with the completion of a wonderful new interpretive brochure and guide.
Map Download Links At Bottom of Page
The Temple Trail is one of the least known of the many trails in the area. The Temple Trail, in use from 1871 to 1877, was a wagon road that connected saw mills that cut and milled lumber from the Uinkaret Mountains near Mt. Trumbull. The lumber was hauled by horse and oxen to the St. George Temple and provided pine beams used in its construction. In places rock was laid by hand to build up a road way to support the heavy logging wagons.
This interesting SUP project started three years ago and involved two levels of the Historic Temple Trail that runs from Mt. Trumble in the Arizona Strip a distance of 80 miles to St. George, Utah. The SUP trail work was begun in 2014 and focused mainly on the upper Hurricane cliff down through a dugway and then runs along the bottom of the same cliff past Fort Pearce to the temple site.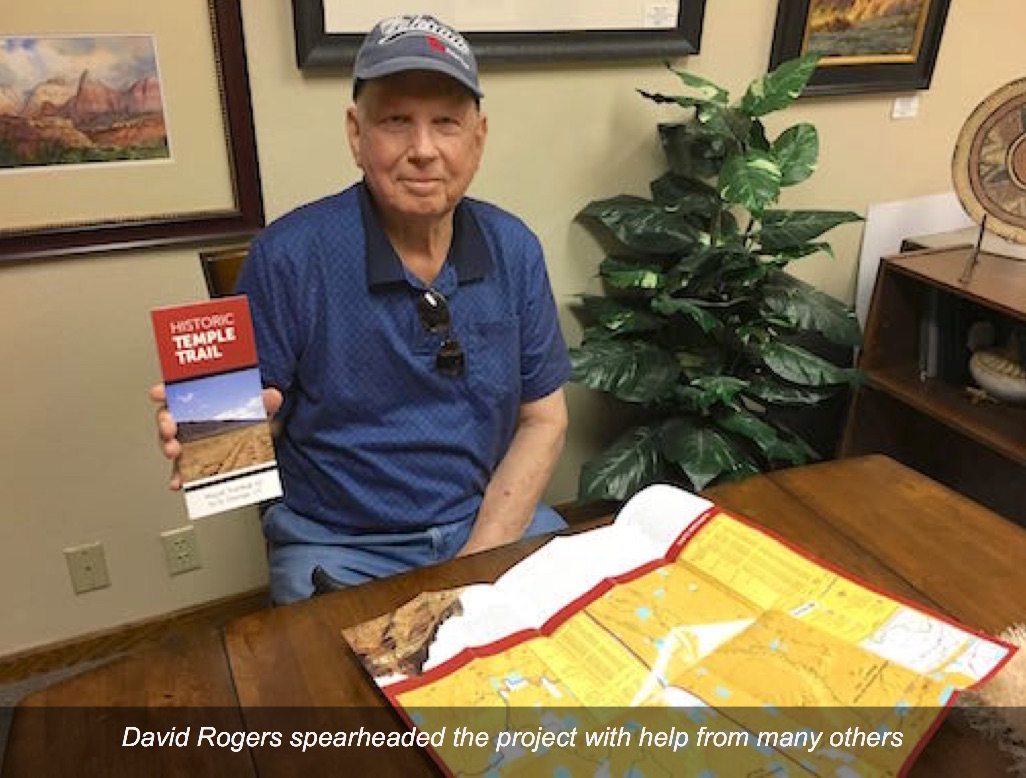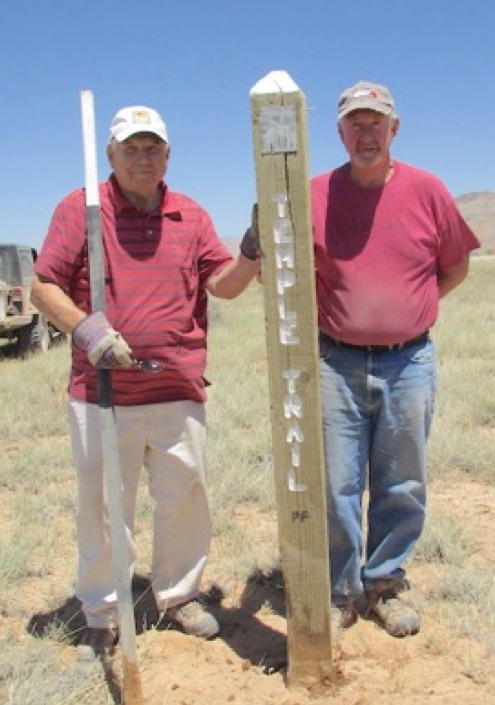 Several members of the Sons of Utah Pioneers and some nonmembers participated in the location and drilling (the first 5 redwood posts on top of the mesa) by hand, and a larger number of helpers using a post hole digger borrowed from the BLM on the lower level trail. Finding the exact location of the trail, gathering significant historical information and summarizing the information required a great deal of time and effort by participants. We traveled many times by vehicle and by foot. Maps prepared by the BLM and help from Diana Hawks, archeologist with the BLM, were very useful, as were existing BLM markers and aerial photographs.
Some of those who contributed to the project in a major way included those that helped with the writing included David Rogers, Jon Green, Taylor Biesinger, Durant McArthur, and Ken Sizemore (director of the Arizona Strip Interpretative Association).
Members that helped with locating the trail and digging the post holes (the posts were contributed by Thad Stewart and prepared by Paul Furr) included David Rogers, Don Burton, Durant McArthur, Tom Cramer, Paul Furr, Royce Griffin, John Jeffress, Paul and Bonnie Weaver, Mel Duehlmeier, Val Peterson, Taylor Biesinger and friends Royce Bryce and Jim Ward.
The map was completed and is now available free to all chapter members and to visitors at the BLM Visitor Center on River Road in St. George, the Arizona Strip Interpretative Center located in the old county court house on St. George Blvd and can be downloaded here: